Dear TRE lovers,
I am excited to be bringing TRE back to the Middle East, where Dr. Berceli made his first discoveries about the Self Induced Therapeutic Tremors!
I just finished teaching a Module 1 Training here in Amman, Jordan, which was attended by locals and foreigner residents from seven different countries. Several of the attendees work for local NGO's that help the huge refugees population here in Jordan. The countries represented were: Jordan, Israel, Holland, Germany, England, Turkey, USA, and Japan. Three of the participants were therapists who are active in the local communities.
Everybody in the workshop fell in love with TRE and will  complete the certification program. I am happy that, in March 2016, I will be again with this inspiring group of people for Module 2.
Tomorrow I will travel to Israel by land to teach a couple of Neurogenic Yoga workshops near Tel Aviv and then to Palestine to do the same. This is a brand new adventure for me as I have never been to that part of the world. December 18 is my birthday and I am stoked that I will spend it in Bethlehem, which should be a fun and interesting place to visit around Xmas time.
Here is the photo of our awesome training group in Amman. Everybody was very friendly and mature, especially Mahmoud, a 8 year old boy who attended the whole weekend with his mom: he practiced TRE with us, took notes and threw in a few appropriate and timely comments. I already miss him.
Love to all and keep shaking!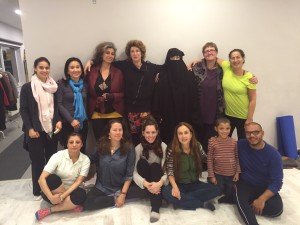 http://trecalifornia.com/wp-content/uploads/2015/11/logo1-300x139.png
0
0
Maria Alfaro
http://trecalifornia.com/wp-content/uploads/2015/11/logo1-300x139.png
Maria Alfaro
2015-12-15 04:16:08
2015-12-15 04:39:12
Greetings from the Middle East